EVA Air - Business Class - London to Bangkok
Last week I flew from London Heathrow to Bangkok Suvarnabhumi with EVA Air in Business Class on their Boeing 777 on flight BR68. The flight departs from LHR at 9:20 pm with a stopover in BKK and an hour later will continue flying to TPE.

EVA Air operates in Terminal 2 at London Heathrow. As I was transiting through LHR, I cannot tell you how the check-in process is. However EVA Air is a rather exclusive airline to fly business in, I suppose there is not much that can go wrong.
Flying in business class will get you access to the Air Canada lounge. It was rather quiet while I was there, beverage and food choice was rather average. I just opted for a can of coke and was excited to try out the food in the plane instead.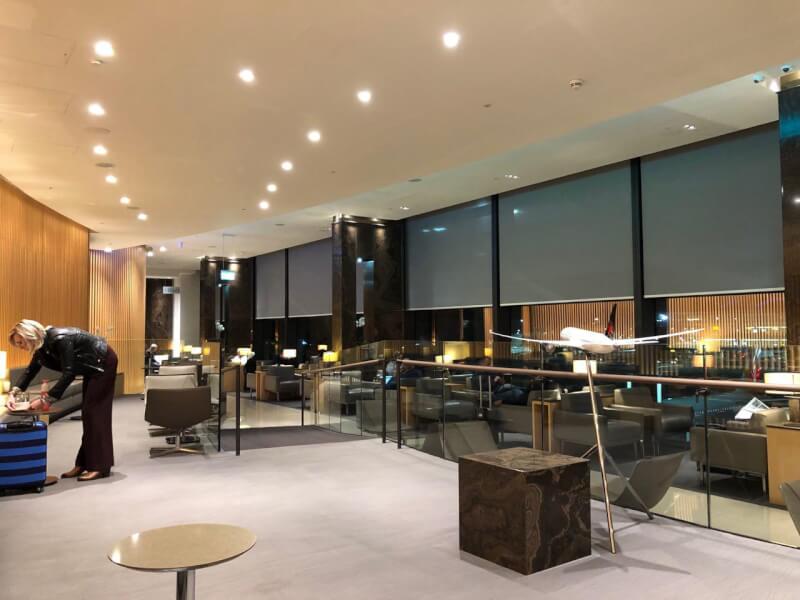 At 8:30 pm I made me on my way to the gate. EVA Air usually departs from the B gates, in my case B44, located not too far from the Air Canda lounge.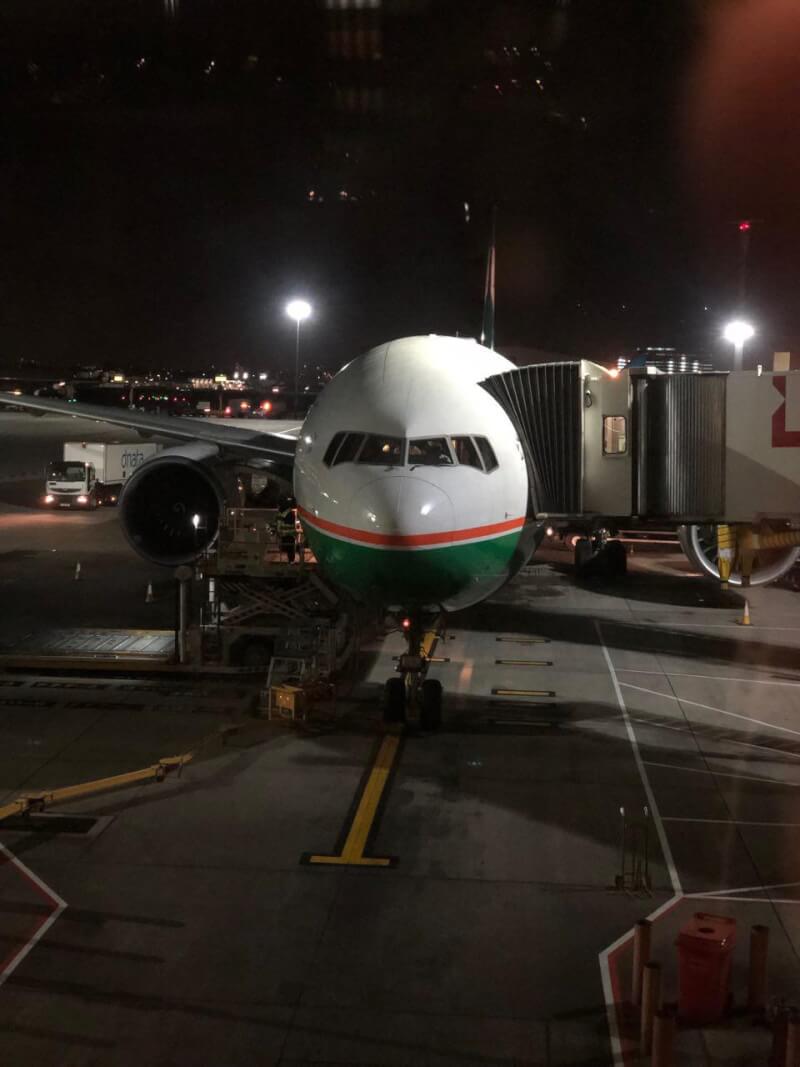 I was kind of late at the gate so I had to board with the economy passengers. Once in the plane I sat down my reserved seat, 10K, just 1 seat away from Premium Economy. Business class was fully booked, so I had not much choice in terms of seat selection. However, I was lucky to catch a window seat. I expected it to be noisy in case of crying babies in PE, but that was not an issue.
Once shown your seat by the friendly flight attendant, you can choose between a warm and a cold towel as well as a welcome drink.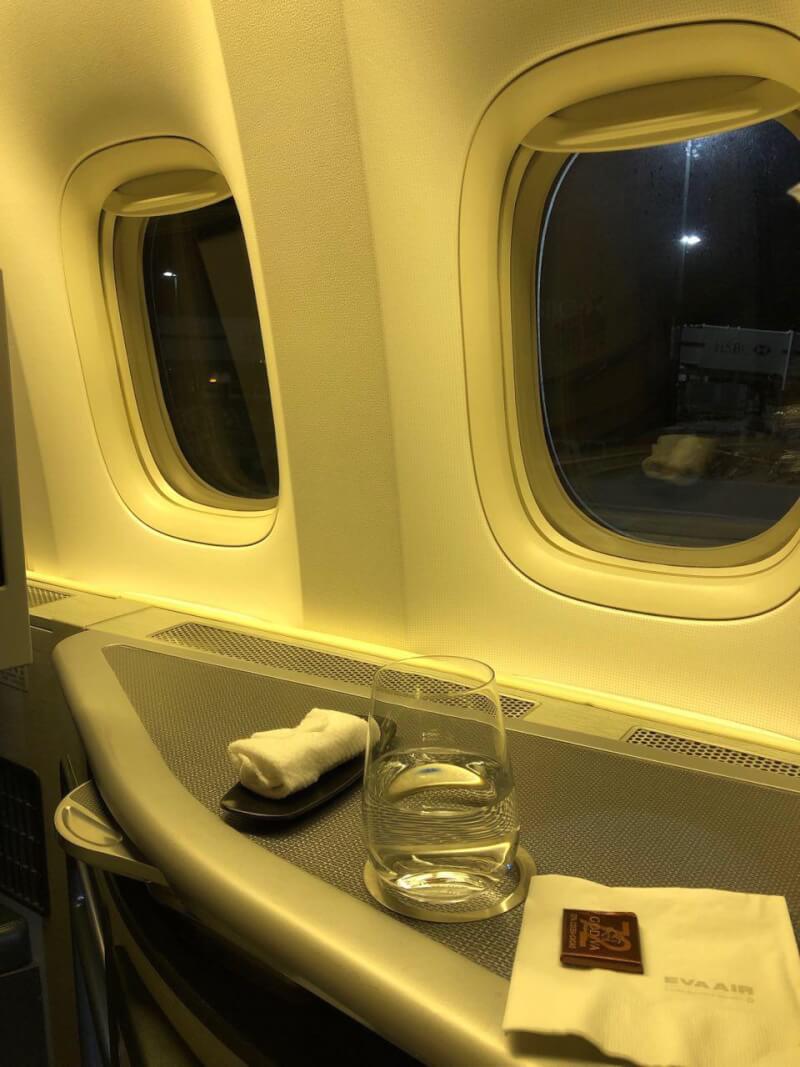 Things were rather hectic.. well, I was kind of late to board and the business cabin was full, so that was not a surprise to me.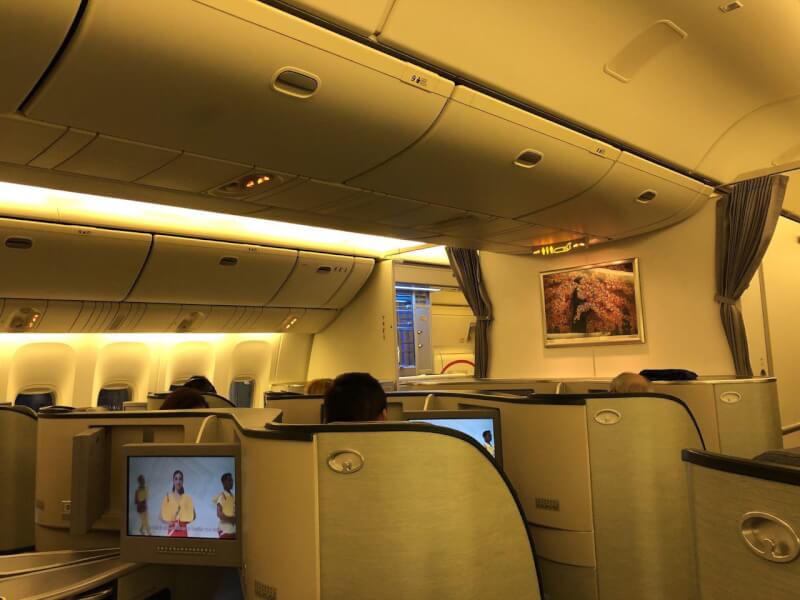 Just a few minutes after boarding you are given an amenity kit, a pajama, the dining menu, the wine menu and you already receive the arrival card for Thailand if Bangkok is your final destination on this flight as well as a card to use the priority line in Bangkok Airport immigration. This being a red-eye flight taking off at 9:40 pm, I opted for dinner and just wanted to sleep throughout the rest of the flight.
Unfortunately, take-off was delayed by approximately one hour, the reason being LHR having a large queue of planes wanting to leave. Delays have stacked up due to bad weather conditions (thunderstorm) on this day of departure. Not too bad if you are sitting in business class; we were served snacks and drinks while we are still on the ground.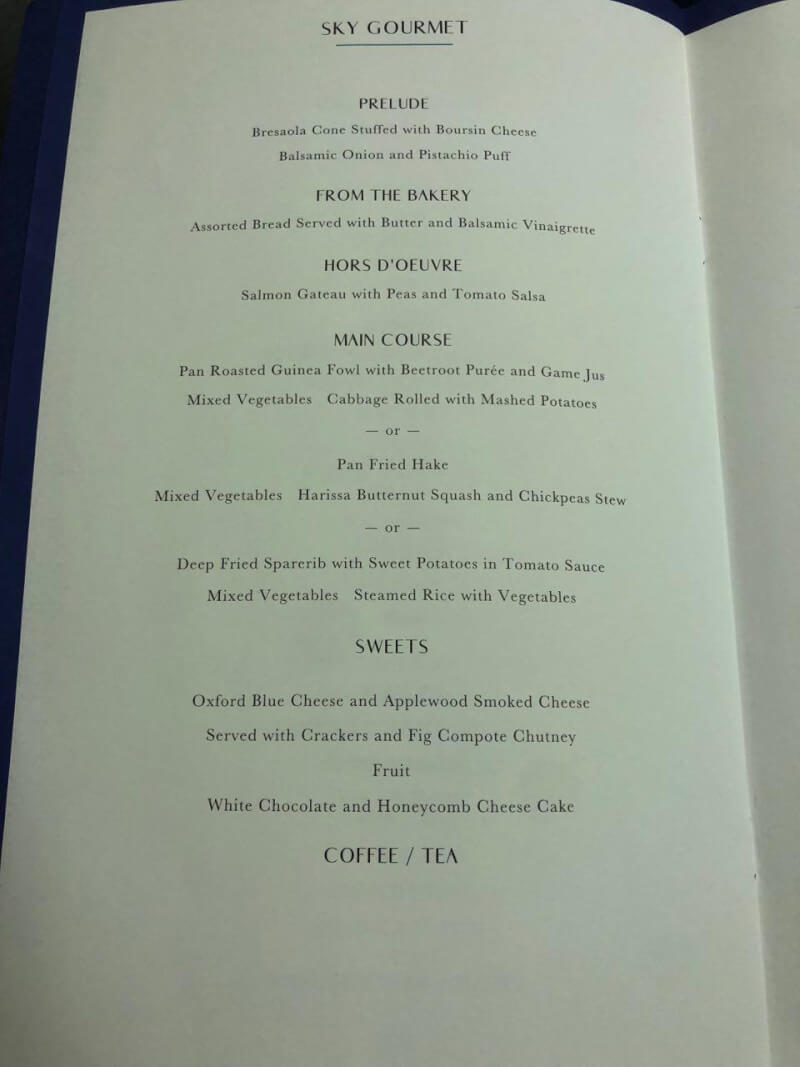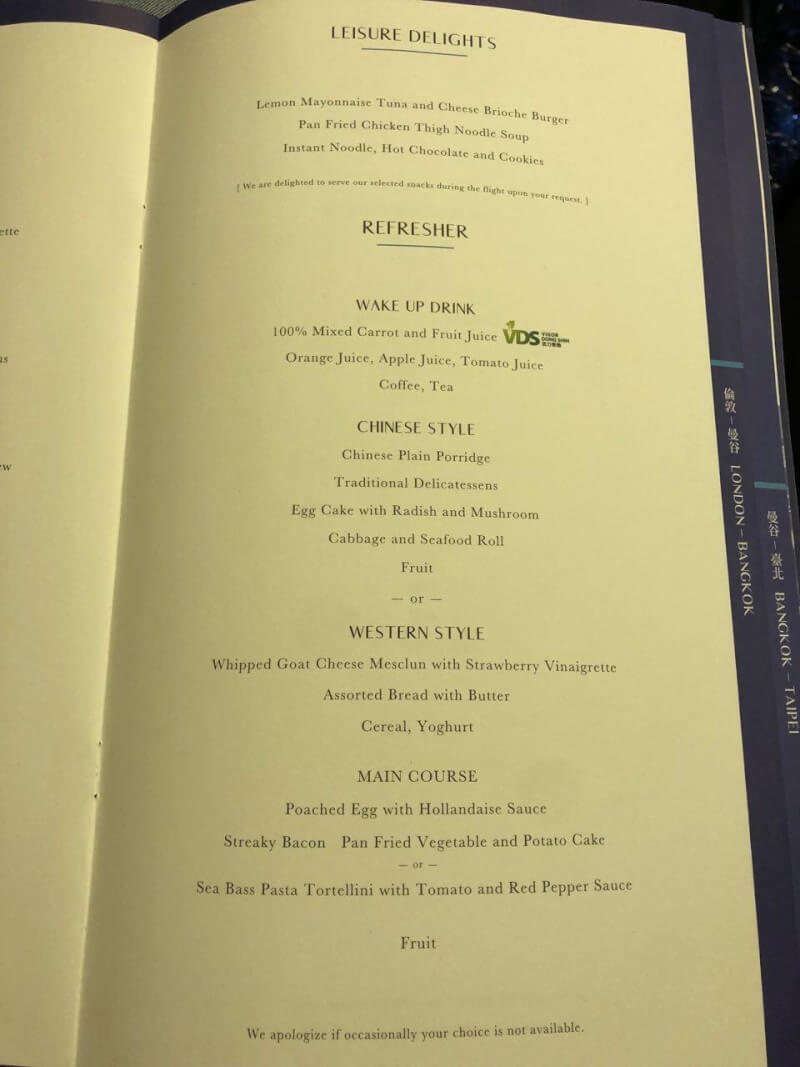 At 10:40 pm we finally took off, exactly an hour later than planned. The captain of the flight expected a late arrival of about 20 minutes in Bangkok. Thirty minutes into the air, dinner was served - EVA Air definitely became one of my favorites; the large selection of food assures there's something you like too and I must admit, it was very good. Having flown Qatar Airways regularly on this route with their incredible service and food, EVA Air can definitely compete with them.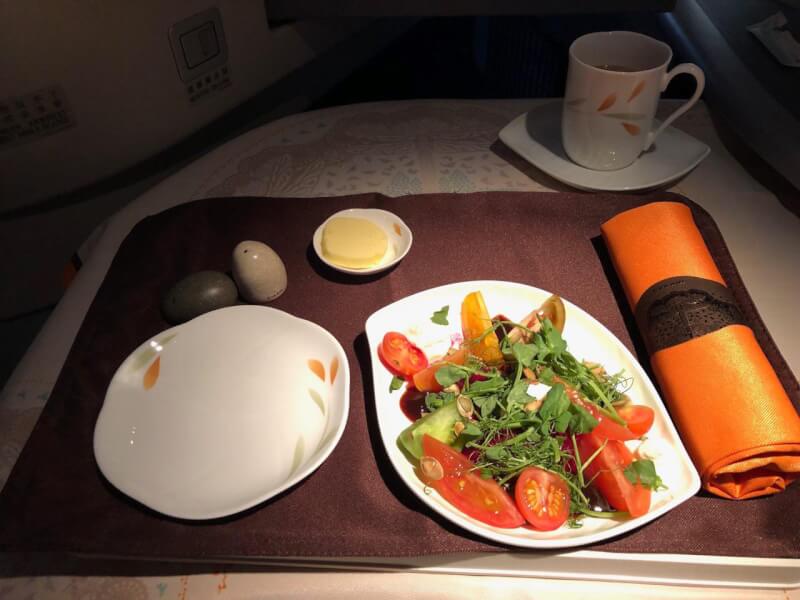 After a full 7 hours of sleep on the comfortable fully flat bed with a mattress, I was served a western breakfast which again, was very tasty. For the remainder of the time, I completed some work on my laptop. Wi-Fi was available on this EVA Boeing 777, $20 for Wi-Fi throughout the entire flight. Other smaller plans were available, however, I thought $20 is not too bad for unlimited data. The speed of the internet was surprisingly good compared to other airlines I experienced before.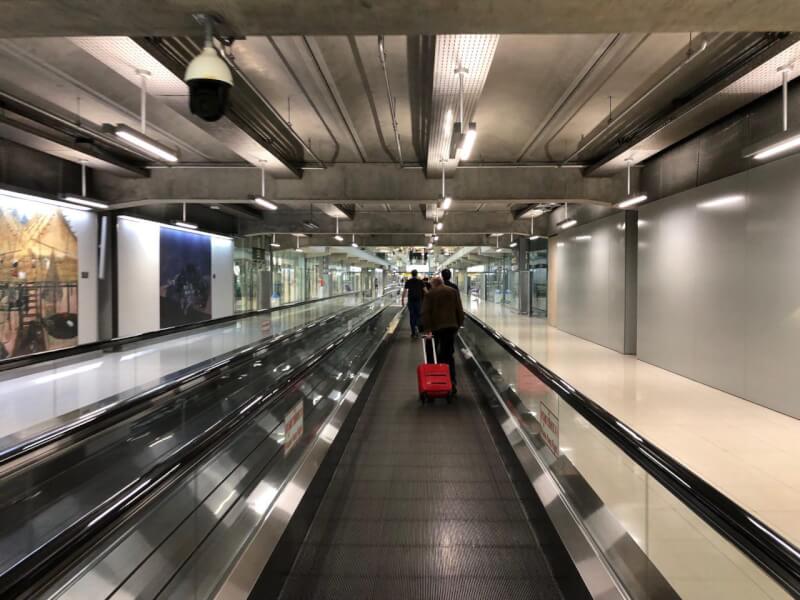 Time went by very fast for me; once landed in Bangkok I headed to immigration which was smooth and fast, thanks to the priority lane you can use as a business class passenger. The bags were already on the belt as I went through immigration.
All in all, I must say this was a very pleasant flight, a flatbed with a mattress during a flight in the night is obviously the best way to fly. The cabin crew was very reactive, polite and always served you with a smile. The FA serving me always politely talked to me using my last name, which made the entire service feel more personal. The "See you again, Mr. Peters!" when leaving the plane leaves a good impression and I will definitely be flying EVA Air in Business again.